Six Sigma Roles and Responsibilities
Six Sigma roles are primarily divided into two segments:
Initiative Leadership
Project Leadership
Apart from the above two segments, the overall Six Sigma methodology require the following roles:
Six Sigma Deployment Leader
Six Sigma Champion
Six Sigma Master Black Belt (MBB)
Six Sigma Black Belt (BB)
Six Sigma Green Belt (GB)
Six Sigma Yellow Belt (YB)
Let's look at how Six Sigma roles are bifurcated into the required segments:

Six Sigma Project Roles
SIX SIGMA DEPLOYMENT LEADER:
As a group, business leaders must own and drive Six Sigma by doing the following:
Establish business objectives and the role of Six Sigma to achieve those goals.
Create an environment which enables success including goals, measures, coaching, and communication, among others.
Actively participate in Six Sigma activities and projects.
Success of the effort is very highly correlated to the interest and time invested by business leaders.
Deliverables of a Six Sigma Deployment Leader:
Six sigma strategy and roll-out plan for the overall organization
Hire team of Master Black Belt, Black Belts, among others
Work with MBB to identify organization vision and mission
Provide a goal for the organization to drive Six Sigma at all levels
Benefits of being a Six Sigma Deployment Leader for Organization and for self-career:
Six Sigma Deployment Leader helps the organization to develop the Six Sigma culture and helps nurture a culture of continuous process improvement.
Driving Six Sigma in the organization allows the deployment leader to run the company to its full potential, thus, leveraging him/her the additional budget for taking more initiatives.
SIX SIGMA CHAMPION:
Project Champions (Sponsors) are the managers of the business, function, or value stream which has been identified as high priority for a Six Sigma team. They play a pivotal role in that they own the processes of the business and, therefore, must ensure process improvements are captured and sustained.
They typically also manage Six Sigma Green Belts (GB's) and must understand the challenges faced by GB associates (for example, removing roadblocks). They also must work with BB's and MBB's to ensure that their business area has developed, and is implementing, a long-term vision of a Six Sigma operating environment across the entire operative base.
Some more details and associated deliverables on the role of Six Sigma Champion (Sponsor):
Training: Sponsors must participate in available Six Sigma trainings.
Support: Provide visible support for Six Sigma MBB, BB and GB's and provide access to resources needed to conduct the project.
Scope: Set very clear scope for all Six Sigma projects. Ensure that the project is clearly defined, has a scope which can be managed within 4-6 months, and which has high likelihood of success. Watch the project as it progresses to ensure that the scope stays strictly within the bounds originally set.
Expectations: Set high expectations on the value of the results. Ensure the goals are not sub-optimized. The Six Sigma process has proven in many cases to deliver value far beyond initial estimates. Less-than-aggressive goals will yield less-than-aggressive results.
Facts: Challenge Experts on their Knowledge of facts and the basis of their conclusions.
Involvement: Sponsors are expected to interact with project teams on a regular basis to participate in problem solving, make decisions, and allocate resources. Plan to spend at least 2 hours every other week with the project team.
Hand-over: Sponsors will be responsible for ensuring that the business takes ownership of the implementation and delivers the value indicated in the Control phase. This requires a specific individual who will own the delivery of the project metrics.
Results: Sponsors, as well as 6sigma mentors and business controllers, are responsible for ensuring that project results hit the bottom line of the organization.
Benefits of being a Six Sigma Champion (Sponsor) for Organization and for self-career:
Champions set the direction of process improvements in the organization. They link the benefits of the project to organizational priorities.
Champions can create a portfolio of projects which could range from projects in Customer Satisfaction, Service, Cost and Quality. It provides the Champions the visibility in the process and also showcases his abilities to top-management to manage varied portfolio of projects.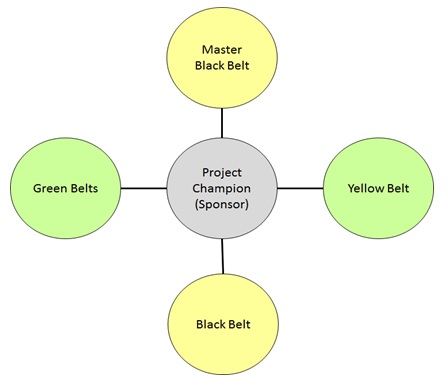 Six Sigma Interacting Roles
SIX SIGMA MASTER BLACK BELT (MBB):
These individuals are responsible for translating the high level business goals into a Six Sigma strategy for the division and the supporting tactics. They work with the deployment leader to achieve the former. They also lead the development of the Six Sigma skills in the organization, for Black Belts, Green Belts, and the general associate base. MBB's have ultimate responsibility to ensure the quality, value, and sustainability of Six Sigma projects under their guidance.
MBB's are responsible, together, for the success of the overall Division's Six Sigma effort. They coordinate and lead activity on key cross-division value streams (e.g. Customer Service, Cycle Time, Research, etc). They also ensure that a culture that values openness, creativity and challenging the status quo develops in the organization.
Deliverables of a Master Black Belt:
Six sigma strategy and roll-out plan in the organization/function
Manage Project of the function
Mentor Teams
Achieve Lean Six Sigma Results
Cross-Functional Leadership
Project Execution and Removing Roadblocks
Benefits of being a Master Black Belt for Organization and for self-career:
MBB helps to set the culture of Six Sigma right from the grass-root level in the organization.
Black Belts are benefited due to the mentoring and statistical skills of MBB.
MBB can grow up the ladder and become the Chief Quality Officer as he gains experience and expertise in the field of Six Sigma.
SIX SIGMA BLACK BELT (BB):
Six Sigma BB's are full-time/part time project leaders and mentors of the business, including Green Belts and other associates. They have tactical responsibility for executing specific projects and ensuring that the results are captured, the changes are owned by the Champions (Sponsors), and the changes are sustained. They will also lead Six Sigma knowledge transfer to both full- and part-time participants.
BB's are expected to create an environment of open, honest debate of facts. They challenge the status quo where appropriate and share (and seek) ideas across boundaries.
Deliverables of a Black Belt:
Six sigma strategy and roll-out plan for the given process/area
Execute Projects
Help and guide Project Resources/ Help remove project level Barriers
Team and Project Structuring
6 sigma Project Results
Mentor Green Belts
Share Best Practices
Benefits of being a Black Belt for Organization and for self-career:
BB's are responsible for taking the process improvements to the next level in the organization.
BB's are highly trained on improving results for the organization using statistical analysis and Six Sigma tools. Hence, they have a very lucrative career path ranging from Business Analysts to Process Improvement experts.
SIX SIGMA GREEN BELT (GB):
Six Sigma Green Belts are the engine of Six Sigma projects. Black Belt's support the efforts of the broader business teams to identify and implement change. The GB's are part-time Six Sigma Project Leaders. They are responsible for scoping the projects, leading the project team, calling for help when needed, managing interfaces with business leaders, and ensuring sustainable results.
The goal of GB's is to translate the value of Six Sigma to the specific work environment and problems.
Deliverables of a Green Belt:
Project Execution
Team and Project Structuring
Six Sigma Project Results
Share Best Practices
Benefits of being a Green Belt for Organization and for self-career:
GB's have authority in their respective processes and can get the work done effectively. This is a very critical aspect for the organization as it builds its process improvement structure within each process.
For self-career, GB's receive exposure to senior management directly by virtue of the projects and get the opportunity to make a difference in the organization.
SIX SIGMA YELLOW BELT (YB):
These are the project-specific, full-or part-time resources that provide process and cross-functional knowledge, as well as help to sustain the gains. They have co-ownership of the project with the Six Sigma Experts and are responsible for the quality of the work and results.
This team also plays the critical role of translating the process gains from Six Sigma to other areas of the business after the specific project has been completed. This is the true leverage of Six Sigma methodology!
Deliverables of a Yellow Belt:
A Yellow Belt has basic knowledge of Six Sigma
They do not lead projects on their own, as does a Green Belt or Black Belt.
YB participates as a core team member or subject matter expert (SME) on DMAIC project or projects. Supports Green Belt or Black Belt in developing process maps, helping with data capture, facilitating simulation, and improvements.
YBs may often be responsible for driving smaller process improvement projects using Lean tools or best practice sharing in their processes.
Benefits of being a Yellow Belt for Organization and for self-career:
For any project, Yellow Belts are those individuals who are the Subject Matter Experts (SME's) of their respective processes and also have the basic know-how of Six Sigma. They are the spokes of a wheel and can help drive any Six Sigma process to closure by using their process expertise. Organizations can greatly benefit by choosing the right YB's for the right projects.
For self-career, YB's get exposure of channelizing their Subject knowledge to process improvement opportunities yielding tremendous benefits for self understanding.
Example of a Mobile Phone factory which intends to transition to Six Sigma methodology in a mobile phone factory:
Functional Roles vs Six Sigma Roles