Six Sigma DMAIC Process - Define Phase - Change Acceleration Process (CAP)
Change Acceleration Process (CAP) is the process of moving the Current State of the Process/Service/Product to an Improved State by catalyzing (speeding up) the Transition State.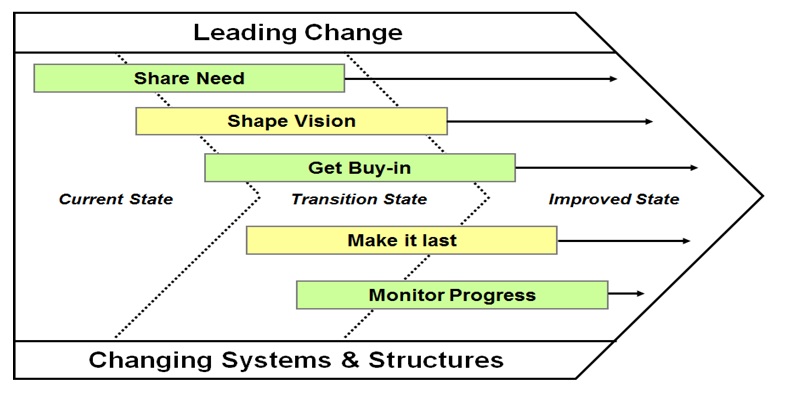 Six Sigma Change Acceleration Process (CAP)
CAP depends on Leading Change, Creating a Shared Need, Shaping a Vision, Mobilizing Commitment (Getting buy-in from Stakeholders), Making the Change Last and Monitoring Progress. All implementation projects require a Champion who sponsors the change if they are to be successful (Leading Change). The reason to change, whether driven by threat or opportunity, is instilled within the organization and widely shared through data, demonstration, demand, or diagnosis. The need for change must exceed the resistance to change (Creating a Shared Need). The desired outcome of change is clear, legitimate, widely understood, and shared (Shaping a Vision). There is a strong commitment from key constituents to invest in the change, make it work, and demand and receive management attention (Mobilizing Commitment). Once change is started, it endures and flourishes and learnings are transferred throughout the organization (Making the Change Last). Progress is real; benchmarks are set and realized; indicators are established to guarantee accountability (Monitoring Progress). Management practices are used to complement and reinforce change (Changing Systems and Structures).
ARMI (Approver, Resource, Member, Interested Party):
ARMI model is a CAP tool used to assess each person's role in the project during various phases of the project. ARMI is an acronym of
A - Approval of team decisions
R - Resource of the team, one whose expertise/ skills may be needed
M - Member of team, with the authorities and boundaries of the charter
I - Interested Party, one who will need to keep informed on direction and findings
ARMI helps in defining the role of each individual within the project team. It helps in clarifying any ambiguity related to the roles and responsibilities of these individuals. Let's look at an example of ARMI:
Six Sigma ARMI (Approver, Resource, Member, Interested Party) Example
Project Acceptability:
Project Acceptability is based on the below equation:
Effectiveness
of a solution =
Quality
of a solution *
Acceptability
of the solution.

Six Sigma Effectiveness Equation
The above equation states that in order to achieve 100% Effectiveness, our Quality and Acceptability of the Solution contribute to the tune of 20% and 80% respectively.
Improvements bring about change and it is a commonly known fact that change is always resisted. It is important to for all of us to realize that just finding a solution to the problem is not good enough. The identified solution should be understood and implemented.
It is important to create a "shared-need" as early as possible in your project journey as it helps in. Then, it is important to continue building the momentum for the change initiative. Finally, it's important to prepare your people/organization for the change by answering the most critical human need – "WIIFM!" (What's In It For Me).
The Key Benefits of Project Acceptability is that it enables projects to be started and completed more quickly. It helps ensure that project solutions are supported. It helps ensure that customers and suppliers are getting involved appropriately. Team involvement ensures change sustenance. It reinforce change that is consistent, visible and tangible. It ensure a "baked-in" change – not just something on the surface that will be the first thing to be dropped in a pinch. And it helps drive change on a global/strategic basis.
Three commonly used CAP tools to help create a shared need are:
Critical Success Factors
Stakeholder Analysis
Critical Success Factors:
These are factors that are critical for the success of the project and needs to be considered and tracked. Some of these factors are Appropriate Metric, Data Availability, Resource Availability, Proximity to Champion/Stakeholders, Degree of Difficulty, Scalability, Benefits. All of the Critical Success Factors need to be articulated well to ensure stakeholder buy-in.
Stakeholder Analysis:
This tool helps the team answer questions like:
Who are the key stakeholders?
Where do they currently stand on the issues associated with this change initiative?
Where do we need them to be in terms of their level of support?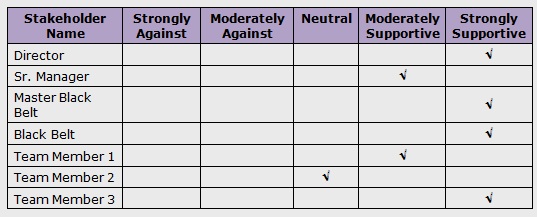 Six Sigma Stakeholder Analysis Example